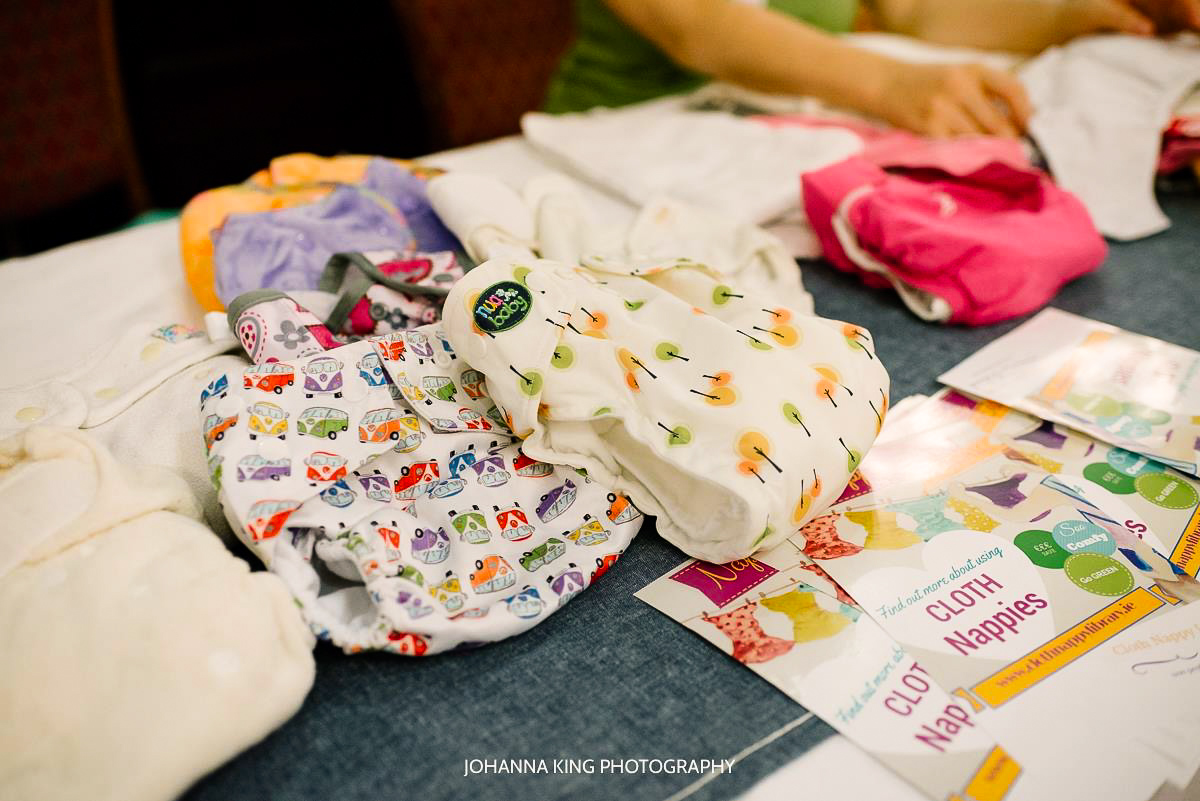 Aideen Ni Cheilleachair
Myself and 3 other mums decided to set up a very simple Cloth Nappy Library to attend baby events and show cloth nappies to parents in person. I had 6 months experience in using cloth nappies at the time but was enthusiastic to help others. 2 of my 5 children have been in cloth nappies from birth. 2 switched from disposables at 3yrs and at 6 months. It's been such a positive experience.
Ruthie O'Connel
I was keen to start with cloth on my new born in 2011, but could find nothing at all online or in person to guide me. I finally booked a trial kit from earth mother when my son was 8 weeks, and off we went from there! My reasons were environmental mainly- I remember wondering why people were eager to get different prints, I couldn't see why people would care about how nappies looked! That attitude lasted about a month... I fell in love with different prints and types, not to mention how effective they were. Even though my boy is well out of nappies now, I feel it's important to try and make cloth mainstream and dispel the myths surrounding cloth. The benefits for the baby and the environment are enormous, and I am happy to volunteer for CNLI.
Deirdre O'Connell
only heard about cloth on my second had bought a pack of prefolds & wraps from Aldi when pregnant. Finally got to using them when she was about 4 months searching for advice came across the cloth nappy library and the various chat pages. Became hooked on the prints & loved seeing them drying in the line. Found everyone was so helpful when I was clueless I jumped at the chance to volunteer with CNLI to help others & haven't looked back since
Timi Nicholson
After our first child was born we were astonished by the sheer amount of dirty nappies that filled up the black bin very quickly, so we looked into reusable nappies and was the start of our low waste life. I became involved with the library in 2017 and currently serve as the treasurer and carry out admin activities.
Annie Byrne
My eldest was 4 months old went I went to Earth Baby Fair, a fundraising day for CNLI. I just loved the atmosphere and community spirit that day and asked if I could volunteer again another time. I joined the committee and 5 years later I'm still there. 3 kids in cloth, made a load of fantastic friends and so proud to be a part of something helping to reduce waste in Ireland.
Local libraries do a monthly nappuccino where you can see various cloth nappies, ask questions and borrow a kit to try at home.
The best way to find out whether cloth nappies will suit your baby and your lifestyle is to try them out. Our postal loans cater for newborns, right up to toddlerhood and beyond!
Why use cloth nappies? Beginner's Guide! Why so many different types? How do they work? Laundry! Jargon! Where do I buy nappies? Library donation!