Advantages
A nappy change is pretty similar to changing a disposable nappy since any boosters are already in or part of the nappy. Most caregivers can cope easily with these nappies and changing is fast for babies who like to wiggle or don't like to be changed.
Although these nappies are a little bulkier than disposables, they are usually less bulky than other cloth options for day time wear -so pants and tights will usually fit on over them easily.
There are a wide variety of brands with differing features and designs to suit all tastes. One-size/sized, snaps/velcro, adjustable elastic and many more features are available.
Considerations
While your baby wears these nappies they need to be tight around the thighs and fit well. There is only one "line of defense" (one elasticated barrier to get through while other systems may have a nappy and then a wrap), so leaks are possible when fitting is loose.
The entire nappy needs to be washed after each wear. Often the waterproof (PUL) part of the nappy should only be air dried. This could be a problem if you don't have space for indoor drying on rainy days. Boosters that can be separated can be dried in the dryer.
Additional nighttime boosters are likely to be necessary for nighttime use or heavy wetters. Many cloth nappy users find a two part system more reliable for nighttime use.
Pocket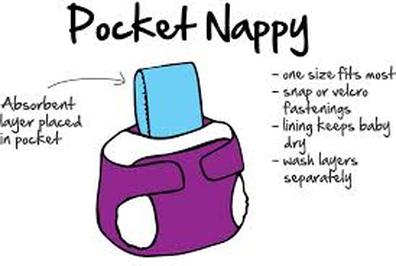 A pocket nappy comes in two parts: an outer part that has a pocket in it and some "boosters" to go in the pocket. The pockets can be "stuffed" quickly and well in advance of a nappy change so nappies can be stored "ready to go"!
Boosters can be separated from the nappy, hence…
boosters can be dried in the drier while the water proof (PUL) part air dries.
boosters can be swapped for different materials.
All-in-one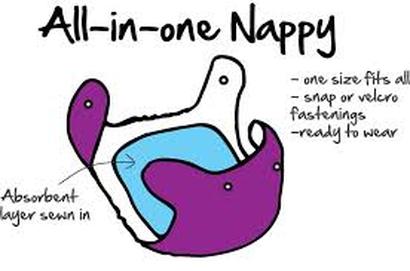 An all-in-one nappy comes in one part: "boosters" are stuck to the outer part of the nappy -most brands allow the booster to flip out for drying. Additional boosters can usually be added as necessary. This nappy is "ready to go" as soon as it's dried.
Boosters are attached to the nappy, hence…
boosters cannot be dried separately.
boosters cannot be swapped (although additional boosters can usually be added).