What is an All-in-One nappy?
An All in One nappy has some form of waterproofing on the outside and an absorbent "insert" attached on the inside. These are considered a "one part system". 
Some "all in one" nappies allow the insert to be snapped in and out -sometimes this is referred to as a "snap in one" nappy. Some have a pocket for the insert and are similar to a pocket nappy. It's best to look at the brand website and see exactly how a particular nappy works if terms are unclear.
Easy to change: All-in-ones are ready to use again once dry. Extra "boosters" (more inserts) can usually be added for additional absorbency where necessary.
Washing: You'll need to wash the entire nappy after every use.
Drying: boosters cannot be removed for drying though many brands allow the absorbent part to hang out for quicker drying.
Number: You'll need 20-24 nappies for full time use. You may prefer to use other nappy types for nighttime.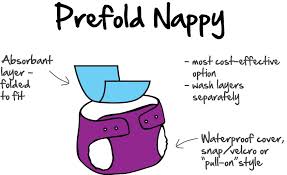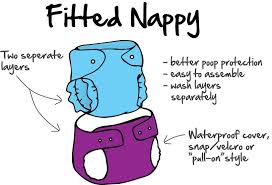 Previous
Next
The options:
All-in-One (AIO) nappies vary between brands:
Sizes: Some brands offer a "Birth-to-Potty" or "one size" nappy -the size can be adjusted using "snaps". Other brands will have sized nappies: you will need to select a size based on baby's weight, each brand will have it's own size guide. Some brands have a both a sized and birth-to-potty option. Sized nappies will usually cost less but you'll need to buy gain as your baby grows.
Closing: Snaps (poppers) and velcro (hook and loop) closings both have their advantages and personal preference plays a strong part in which you should opt for. Velcro is faster to change. Snaps are more secure and longer lasting.
Materials: outer waterproofing materials vary (PUL and Minky are most common) and inner materials will vary too. Consider the material that will be closest to your baby's skin. AIO nappies will come with the necessary insert attached. You my have a choice of optional boosters that are suited to the brand you select.
Drying & Boosting: some all in ones are slow drying as the design makes it difficult to air the very absorbent inserts. Similarly some are easier to boost than others. Most will allow boosting on top of the inserts but you may like to have your booster in place before you change a wiggly baby. Be sure to have a  good look at the design before you buy.
Design: colours and patterns may not seem very important when you are considering cloth nappies but the cuteness factor usually takes over at some stage. Some brands come in all sorts of patterns and designs. Custom AIO nappies are a possibility.
Price: Prices vary greatly between brands. An AIO nappy is usually between €10 and 20. "Cheepies" are also available